Havenswatch is located in Temple, TX and is one of the newest Kingdoms in The High Fantasy Society. They meet in Lions Park on Sundays from 3 PM until dark. Recently a shire of Kalladen, Havenswatch declared its High Lord and its independence on September 19th 2010.
Havenswatch has had a large amount of growth in the last few months and shows no signs of losing its population,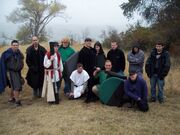 Ad blocker interference detected!
Wikia is a free-to-use site that makes money from advertising. We have a modified experience for viewers using ad blockers

Wikia is not accessible if you've made further modifications. Remove the custom ad blocker rule(s) and the page will load as expected.